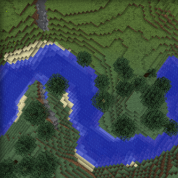 We're still recovering from a weekend of Minecraft, commentary, auctions and interviews, and Marc's new employment with Mojang, and not all of our totals are in, but we wanted to take a moment to update the site with a summary post.
To anyone who won an auction: thank you very much for participating! We're running a bit slow here, but expect that most of our auctions payments, messages, shipping, etc will be resolved within a week from the end of the marathon (so, Sunday-ish).
During Minecraft Marathon, we:
streamed 53 hours of Minecraft
raised over $4,000 via ChipIn
raised over $7,000 via our auctions
drank 3 flats of Whoopass and 5 packs of Jones Soda
drank 2 bottles of Jones' Tofurky and Gravy soda
had 60 eBay auctions!
conducted 5 interviews
had 3 visits from Mojang employees: Jeb, MinecraftChick, and Patrick
Feel free to leave your own stats or memories of the weekend in the comments section!
Please keep following us on Twitter, Facebook, and this blog. We have more plans for this year! Once things settle down a bit, we're going to do some followup auctions to offload some items that fell through the cracks the first time. We would like to livestream events every so often, and totally want to be back for Minecraft Marathon 2 next year.
P.S. The server save files can be found here.